Govt looks to claw back $3m R&D grant
12:48 PM Tuesday Feb 11, 2014 – Originally published in the New Zealand Herald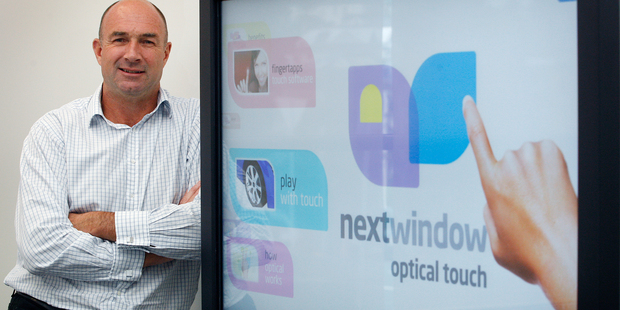 Al Monro, former chief executive of New Zealand-based company Next Window. Photo / Sarah Ivey.
The Government is investigating whether it can recoup any of the more than $3 million in research and development funding awarded to a Canadian-owned, New Zealand-based technology firm that is now being shut down, says Minister for Economic Development Steven Joyce.
Auckland's NextWindow – a developer and manufacturer of optical touch screens – was awarded a $5.9 million, three-year R&D grant in 2011, the year after it was acquired by Calgary-based Smart Technologies for US$82 million.
Joyce said NextWindow had received $2.6 million of that grant, plus more than $550,000 in additional state-funded R&D grants.
Smart announced last week that NextWindow would be wound down by the end of its 2015 financial year because it had failed to meet earnings expectations and was no longer part of its parent firm's "core business".
Before the acquisition, NextWindow employed around 80 staff – many of whom were engaged in R&D – at its College Hill headquarters, but that number had been reportedly whittled down to around 11 by late last year.
Joyce said the Government had written a clause into the new Growth Grants programme, which made it much easier to claw back funds in the event of a change that reduced the benefit of the funding to New Zealand, such as a firm being wound down or its R&D operations shifted overseas.
The Growth Grants fund 20 per cent of R&D expenses for research-intensive firms and last year replaced the Technology Development Grant programme, under which NextWindow received the $2.6 million in funding.
Joyce said it was more difficult to recoup cash awarded under the previous scheme, but Callaghan Innovation – the Government's high tech research body – was "looking into" whether it could claw back any of the funding provided to NextWindow.
"We can't say right at this time whether they would definitely have to repay money or not, under the old system," he said. "They [Callaghan] are basically going through the contract and assessing what [NextWindow] were required to provide, versus what they have provided … it's a little bit early to make a judgement on it."
Last week technology entrepreneur Selwyn Pellett said he would be fully supportive of the Government requesting Smart to pay back the funds NextWindow received.
And Al Monro, NextWindow's former chief executive, agreed, saying: "I do believe that if companies move intellectual property out of the country or shut down R&D facilities then, yes, the Government should be able to claim the money back."
A Smart spokesperson said the company had no comment.
Pellett, a critic of R&D grants going to foreign-owned firms, said grants that didn't force ownership of companies to stay in New Zealand would result in "a continual waste of money".
Pellett co-founded Auckland-based technology firm Endace, which was awarded government funding worth more than $10 million prior to announcing in late 2012 that it would be sold to Californian network solutions firm Emulex.
Joyce, who exchanged blows with Pellett on Twitter in 2012 when the entrepreneur said taxpayers should be unhappy about government funds awarded to Endace prior to the acquisition, disagreed that R&D grants awarded to foreign-owned firms were a waste of money.
"He [Pellett] is being a bit self interested to say that it's fine if an entrepreneur like him is a beneficiary of it, but if it's somebody else who's conducting R&D in New Zealand that's not necessarily 100 per cent New Zealand owned then they shouldn't benefit from it," Joyce said.
He said the main aim of the grants was to encourage research and development to take place in New Zealand, regardless of whether the company receiving the funds was foreign or locally owned.
"It helps build the R&D eco-system," Joyce said. "For example, Fisher & Paykel Appliances [now owned by China's Haier], under the Growth Grants system, has just been given a grant that is helping them to increase the size of their R&D operations in New Zealand, which I would argue is good for New Zealand."
The Government also awarded a Growth Grant to (now US-owned) Endace last month.